As soon as I walked through the door at 3 p.m. — after attending the Tuesday, May 17 meeting of the Archuleta County Board of Commissioners — my son-in-law Chris asked me if I had seen the fire.
"What fire? »
He took me out the back door and showed me the children's swing, in the distance, the pine forest. Except it didn't seem so far away. In fact, it seemed a little too close, knowing how fast a wildfire can move, given enough wind.
But frankly, for the moment, it doesn't seem too serious.
"Well," I said to Chris, "Looks like I'm going to need my camera."
"The fire engines came up Four Mile Road," Chris offered. I told him I was going to try Cemetery Road.
While driving, I noticed the wind and wind direction, and only felt an occasional light breeze. It was a good omen, although I have heard that a forest fire can create its own wind.
A few miles from the cemetery, I stopped for a photo. Judging by the smoke, the wind was blowing from the southwest, which means the fire would likely move northeast.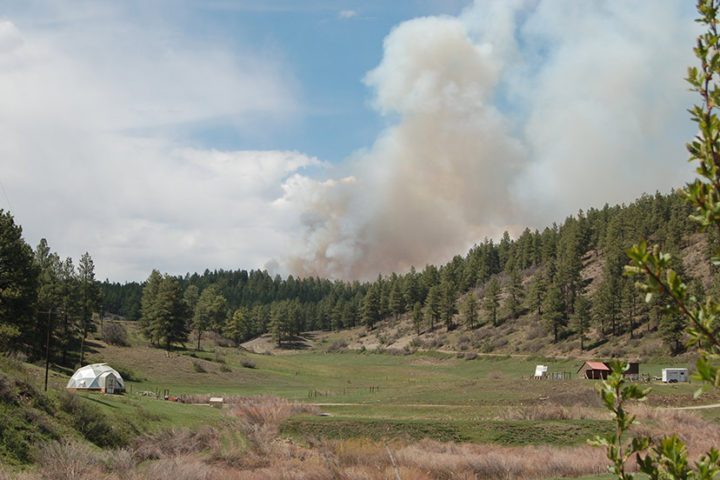 Back in town, I stopped by the Archuleta County administrative offices and learned that I could follow developments through Facebook, on the San Juan National Forest page.
Here is what was posted there around 2:45 p.m.
Resources are at the scene of a 1-2 acre fire burning 4.75 miles northwest of Pagosa Springs Airport off Plumtaw Road. The Plumtaw fire burns in ponderosa pine, gambel oak and mixed coniferous forest. 3 large tanker planes and a heavy helicopter are on the way and an air attack is in place. We will continue to provide updates on this page as we get them.
Through my camera lens, the fire had looked larger than "1-2 acres".
This Facebook notice was followed by a post by Mineral County Emergency Management:
A PRE-EVACUATION ADVISORY HAS BEEN ISSUED for Lost Valley of the San Juans, located on 4 Mile Road in Mineral County. The #PlumtawFire is an evolving wildfire, burning approximately 1 mile from the pre-evacuation zone and 4.75 miles northwest of the Pagosa Springs airport. Multiple air and ground resources are on site.
I had no idea the Lost San Juan Valley was in Mineral County. In fact, I had to look at a map to confirm what I had read on Facebook. Yes, the Lost San Juan Valley appears to be in Mineral County. (Why don't I always believe government officials? Shame on me.)
Here's a map I found on a real estate site, showing that there are three parcels currently for sale, in the Lost Valley subdivision…delineated by a black outline.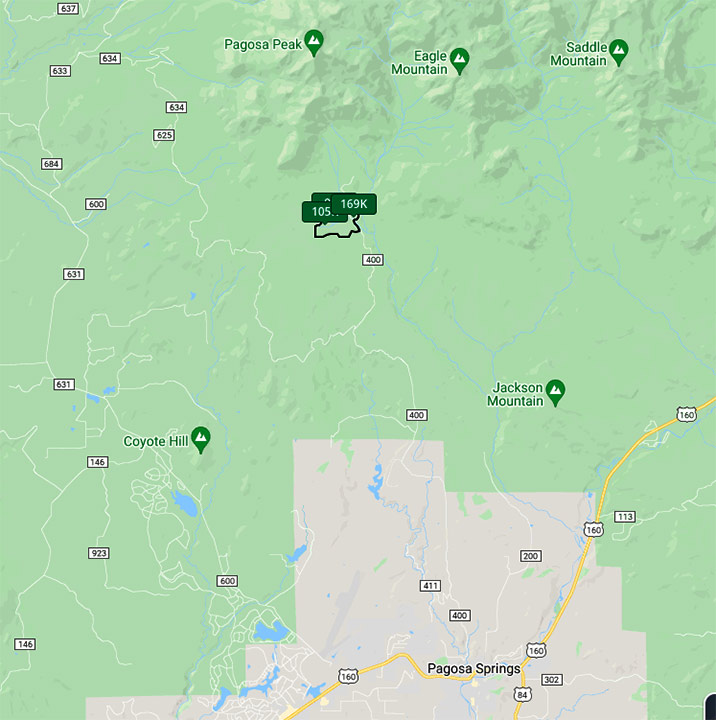 Around 4:30 p.m., the San Juan National Forest had shared a new message released by Mineral County Emergency Management.
The approximately 50-70 acre #PlumtawFire is burning 4.75 miles northwest of Pagosa Springs Airport and north of Plumtaw Road. An EVACUATION NOTICE has now been issued for the Lost Valley of the San Juans neighborhood. Contact Archuleta County Dispatch for more information on evacuations. Five large air tankers and several helicopters are working on the fire, in addition to ground assets from several partner agencies.
The fire started around 1 p.m. on May 17 and the cause is under investigation.
The message included this photo.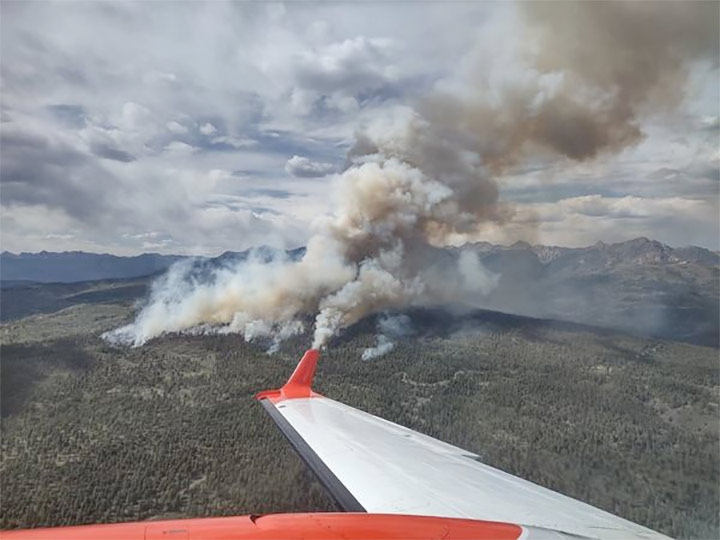 By 5 p.m., the view from our back yard had changed.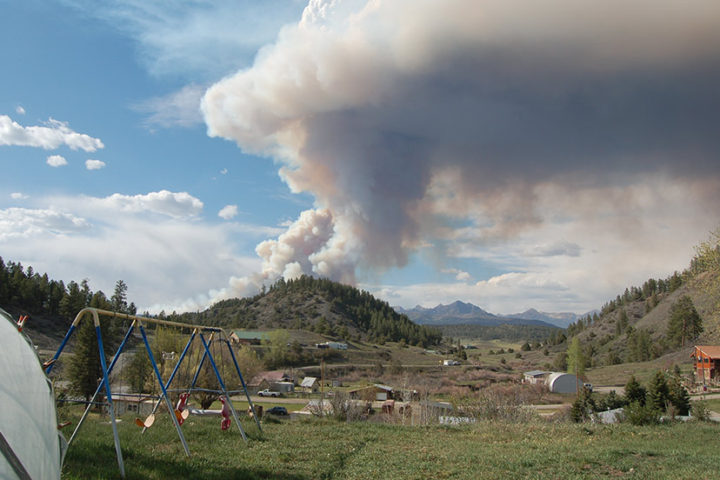 At 6:30 a.m., I was sitting in the Pagosa Springs Middle School library with a dozen people—mostly school staff—waiting for the school board to complete an executive closed session regarding the hiring of a new superintendent…and someone announced the fire was now over 450 acres.
An emergency operations call center had been set up for evacuation information: (970) 422-7084.
At 8:10 p.m., the school board was still locked in a private room, and only half a dozen of us were still waiting to hear who the next district superintendent would be. Presumably, the fire continued to burn. When the school board finally arrived, after an executive session lasting more than two hours, they made no announcement about a hiring choice, but simply scheduled another meeting for next Tuesday.
Meanwhile, the San Juan National Forest had emailed an announcement at 8:04 p.m. The fire was estimated at over 600 acres.
The Plumtaw Fire is burning 7 miles north of Pagosa Springs, 2 miles west of the Plumtaw and Fourmile Road intersections. An evacuation notice has been issued for the Lost Valley of the San Juans, located in Mineral County.
The Plumtaw Fire was recently mapped over 600 acres and continues to grow. Several large air tankers (LAT), a lead aircraft, an air attack platform and 3 helicopters worked this afternoon and evening with ground crews to extinguish the fire. A Type 3 Incident Management Team will take command of the incident, and a Complex Incident Management Team (formerly known as Type I or II Team) has been commissioned along with additional resources and teams. Resources from multiple state, federal, county and municipal agencies work in close coordination.
The fire area will be closed to the public, including Fourmile Road (NFSR 645) at the edge of the forest and Plumtaw Road (NFSR 634) from the junction of McManus Road (NFSR 633). This closure includes the Fourmile Falls trailhead.
The Forest Service was notified of the fire around 1 p.m. May 17 and is burning in Ponderosa Pine, Gambel Oak, and Mixed Conifer. The cause of the fire is under investigation.
The San Juan National Forest plans to enter Stage 1 fire restrictions no later than May 25. More information is coming this week on the implementation of fire restrictions.
The small black squares are houses.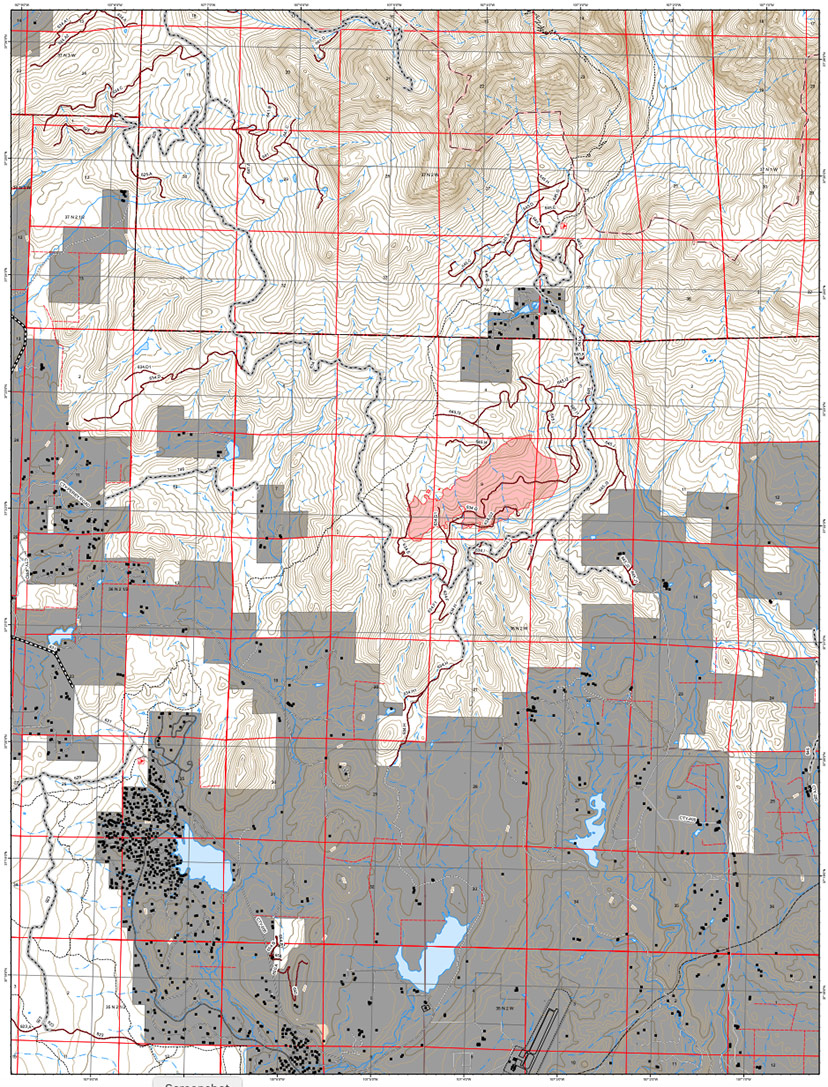 At 9:00 p.m., a person with an unknown phone number left a voicemail.
"Hello, Bill…I wonder if you've heard of the local city and county government calling on Governor Polis for help?" We're going to have high winds tomorrow – gusts of 40 miles per hour – and it's going to be hot. I wonder if anyone bothered to call him?
"We need more help here, in terms of firefighters and equipment…"
Good question.
Bill Hudson
Bill Hudson began to share his opinions in the Pagosa Daily Post in 2004 and cannot break this habit. He says that in Pagosa Springs, notices are like vans: everyone has one.